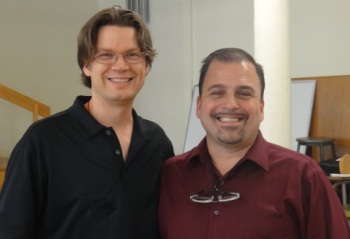 As a new member of the New York Singing Teachers' Association I attended their annual Comparative Voice Pedagogy course, held at the Teacher's College of Columbia University in New York City.
Six Master Teachers, having themselves sung on some of the biggest stages around the world, presented their methodologies over the two day conference. Ranging from Classical to Musical Theatre, a broad range of approaches to singing were explored.
I found this event mind-opening and was impressed by several of these most credentialed teachers speak of the importance of humility ("no one has this all figured out") and of adapting methods to each student's individuality.
Besides the formal instruction, our lunch hour at the Amsterdam Café was a wonderful time of camaraderie, connection, and exchange of ideas and encouragement.
I have already begun to apply some new ideas with my students and continue to review and research the material provided by NYSTA – I'm glad to be a part of it!